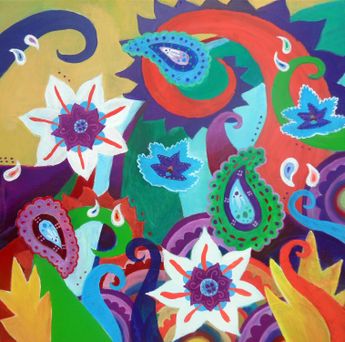 Keep exploring...
When I started with the 5th painting of the playful flower series I was still very inspired by oriental patterns. It was a time when I made my first henna tattos and I just wanted to keep exploring oriental shapes and forms.
I wanted to keep the lotus flower as it is an important symbol for me. I read that the lotus flower grows out of mud. This made me think of situations in life when I thought I am lost in the mud and nothing good can come out of here. For me, the lotus flower is a beautiful sign of transformation. In our live there are these periods in which everything seems very hopeless. In such situations, the lotus flower can be a sign of hope, showing us that even in the mud something beautiful can grow.
As usual I made a sketch before painting. When I moved to the canvas I started with the circle pattern on the bottom and the spiral on the top right corner and left bottom corner. The colours I used are orange, blue, turkis, green, purple, yellow... I wanted to use different colours from the painting before and I was inspired by the colours of the sea.
There was a point when I didn´t know how to continue and what colour to use for the background.  I found out for myself that taking a break can be very good at such moments. I used the colour wheel of color.adobe.com to help me with the colour choice. 
The biggest challenge with painting was that it took a lot of patience. In order to achieve a good result with clear edges, I sometimes had to paint the same area 2-3 times.
Good ideas usually come during painting...
Since the good ideas usually come during painting, I have allowed myself to deviate from my first sketch. For example, instead of the lotus flower in the middle I painted oriental leaves. It was interesting for me to see how step by step things became clearer after painting the background.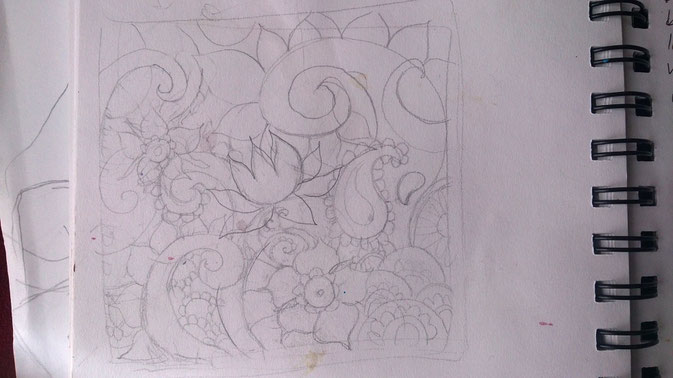 When the painting was finished I wrote an expression text for it. Later it turned into this poem:
Dancing Symphony
The symphony plays and dances
With floating ease, it captures me
and frees me from my burden
One more chord and I'm ready
To thrive like a lotus flower
Which stretches to the sky
With dewy leaves rising from the mud
The morning is full of flowers
Like every other painting of the Playful Flower series the Dancing Symphonie is for my inner child that loves to be creative and play around. 
Yes, I really think we should allow ourselves to play more... The world would be so much happier. I am absolutely convinced of that! :)
So let your inner child play a little and don´t forget: What looks like mud can turn into a beautiful lotus flower!
This painting will be in a group exhibition of the Free Gallery Graz (Freie Galerie Graz) that starts on the 2nd of May 2018 and ends on the 6th of June 2018.
Address: Café Erde, Andreas-Hofer-Platz 3, 8010 Graz