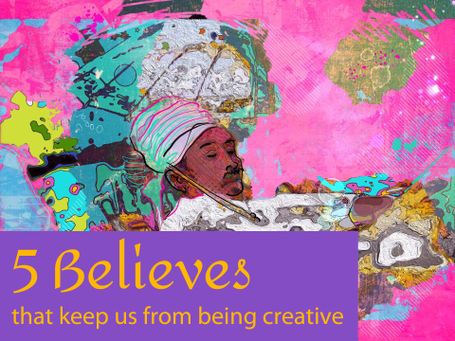 What´s the significance of art in our society and what keeps us from leading a more creative life?
As a child it is easy to be creative. Children that grow up in a good environment can play for hours and be creative without any expectations from others. Later it´s not that simple anymore. Few people grow up in an environment in which their creativity and artistic endeavors are greatly strengthened or promoted. So it can happen that many people are afraid to recognize their interest in creativity and pursue it.
Because it suddenly feels selfish ...
But is that true?
I myself know how that feels when the need to be creative meets walls. Sentences like "it's not a profession", "it's selfish," "there are more important things," "I'm not good enough," etc., have always kept me from giving space to my creativity.
There are a lot of beliefs around art and creativity that we are often unaware of. Many people feel resistence and are throwing the sponge. As a result we separate an important part of us. Many people can live with that, but there are people who feel that something important is missing ...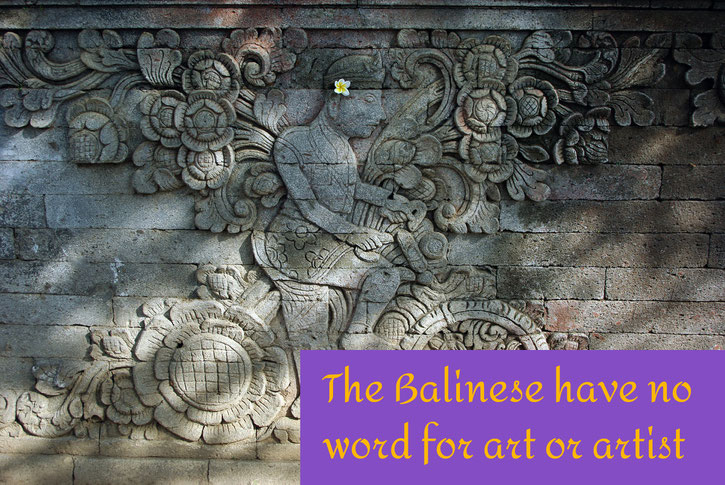 We are told that art is a nice hobby or an activity that should be at the bottom of our priority list. I see that differently. For me, creativity and art are part of life. In Bali, for example, there is no word for art or artist. The word for "artist" and "man" is the same. For the Balinese, creativity (be it dancing, theater, sculpture, music, shaping flowers, painting, etc.) is seen as a kind of devotional prayer in which every person takes part every day. Creativity is not seen as something "special" but as something like a complete life. It is so essential for human beings that the Balinese need no word for artists or art. The village called "Ubud", Bali's heart of creativity, is simply called "medicine".
No! Creativity is not a luxury! When we are creative, we do something good for ourselves and for others. We do not have to feel guilty for something that belongs to our human experience!
Beliefs that block us
Here are 5 beliefs about art which I would like to clarify. 
Turn everything upside down that keeps you from living your creativity!
1. It is selfish to deal with art
That's not true! To do something that makes you happy involves a lot of love: the love for what you do, the love for yourself, the love for the people you touch with your work, the love for the world you actively participate in.
2. Artists are geeks / loners
That's not true! As an artist you do not have to be an outsider or a loner. If you are determined to go your way as an artist, you will meet with many like-minded people over time. Today there are many possibilities to exchange ideas with other artists. The geographic location is no longer important. The internet allows us to communicate with artists around the world. You are not alone!
3. People will consider me crazy
That's not true! We all come into this world as unique beings, but too many people become copies in the course of their lives. Dare to be creative and live your uniqueness. The world needs more color! Do not worry about what others think and be as colorful and as unique as you are.
4. I am not good enough to be an artist
That's not true! To be an artist, you do not have to be perfect! To be an artist means to enjoy the creative play. It is a process of getting closer to yourself. It is about finding your own voice and carrying it out into the world. Listen to the gentle voice of your heart which says "you're enough!"
5. As an artist, I can not pay my bills
That's not true! We all know the story of the starving artist. It has imprinted in our memory and thus also shaped our society. Yes, I know that it is not always easy to live from art. It actually often makes sense to have a second source of income. I personally find it much better to have no financial pressure in the background. Define your personal financial goals. Maybe you want to get back the costs of the materials or earn a little extra money. Maybe you want to be able to live entirely from your art. Your creativity is a gift to the world. I am convinced that if we do something from the heart and give something to the world, life supports us. 
Are there other beliefs that stand in your way? Turn them upside down!
And again...
Being creative is not selfish! Creativity brings important qualities into our lives, which we othererwise miss and are looking for elsewhere. 
We all stand in a creative interaction with the world. I believe that creativity makes us more free. Free in thinking because creativity helps us to see more than the options that seem available to us.
Would you like to release more of your creativity?
Are there beliefs that you would like to get rid of?
Do you have a hard time implementing a creative idea and need advice?
Do you want to share feedback for your creative journey or simply share your thoughts?
Use my special offer and get a free e-mail consultation
just write me
penandstrings@gmail.com